Toyota Center | Houston, Texas
Calling every ONCE! It's time to get up and ready for the time of your lives as TWICE electrifies the stage at Toyota Center on Sunday, 25th of June 2023. The South Korean popstars are set for global domination as they bring READY TO BE, their newest #1 top-selling album, to the live stage across the US this summer. As the heat comes, TWICE is inviting every ONCE to be set free as they serve astounding talent, vocals, and choreography at their fifth world tour. As tickets sell out fast, make sure to raise those lightsticks, and save your seats by booking your tickets now!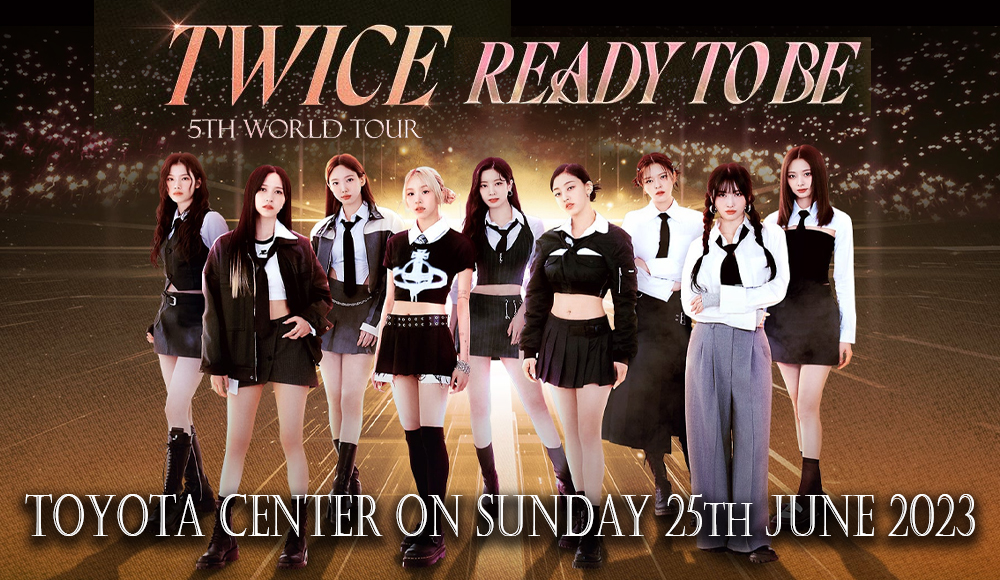 One of this generation's biggest K-Pop stars, TWICE, just released its newest #1 top-selling mini album, READY TO BE, breaking its previous records, dominating Hallyu airwaves with fans dancing to and singing to the beat of their eccentric energy. With its hit singles "Set Me Free" and "Moonlight Sunrise" taking fans to a dreamscape of fantasy and color, TWICE never fails to hit the spot, definitely ready to bring this new era to life at READY TO BE World Tour.
In support of their new record, READY TO BE World Tour will visit arenas around the globe with stops in South Korea, Japan, Australia, and North America. As TWICE gears up to bring excitement to the nation's summer heat, fans are itching to 'feel special as tour dates come to life.
Proving they're ready to take over with READY TO BE, Rolling Stone notes that the group's new mini album "blows up tired stereotypes and smashes through barriers with a seven-song set that's as brash and compelling as anything in pop music today."
On their 12th mini album, TWICE has gone through thick and thin as they pursue their passions, becoming role models in a global K-Pop movement that inspires millions of fans across the globe. With their newest project READY TO BE out in the airwaves for the world to enjoy, the group cites its mission to "grow up even more, further, as artists," Nayeon shared with Billboard.
TWICE also credits its fans as their "driving force" to keep the dream going. "They are the reason for our existence as artists, and this year, thankfully, we have a lot of chances to meet our fans globally and domestically," Dahyun shared.
With record-breaking success at the onset of READY TO BE, big surprises await fans as the era comes to life on its very own world tour. As the "Fancy", "Feel Special", "Talk That Talk", "Likey", and "Set Me Free" girls dominate arenas around the globe, make sure to be part of this special milestone by booking your tickets now!