Toyota Center | Houston, Texas
If you've been running in 'circles the past year or two, well seasons are changing as the one and only Post Malone is taking his fresh new record Twelve Carat Toothache to the big stage at the Twelve Carat Tour. The "Rockstar", "Psycho", "Sunflower", and "Circles" hitmaker is stopping over at Toyota Center on Tuesday, 25th of October 2022 to perform his biggest hits, fan favorites, and fresh new tracks off of Twelve Carat Toothache. 'Cooped up no more as 2022 brings music venues back to life, Post Malone is in to bring this big new era to life at the Twelve Carat Tour. Get ready to feel 'better now' and party like a 'Rockstar' with the one and only Post Malone. Book those tickets now!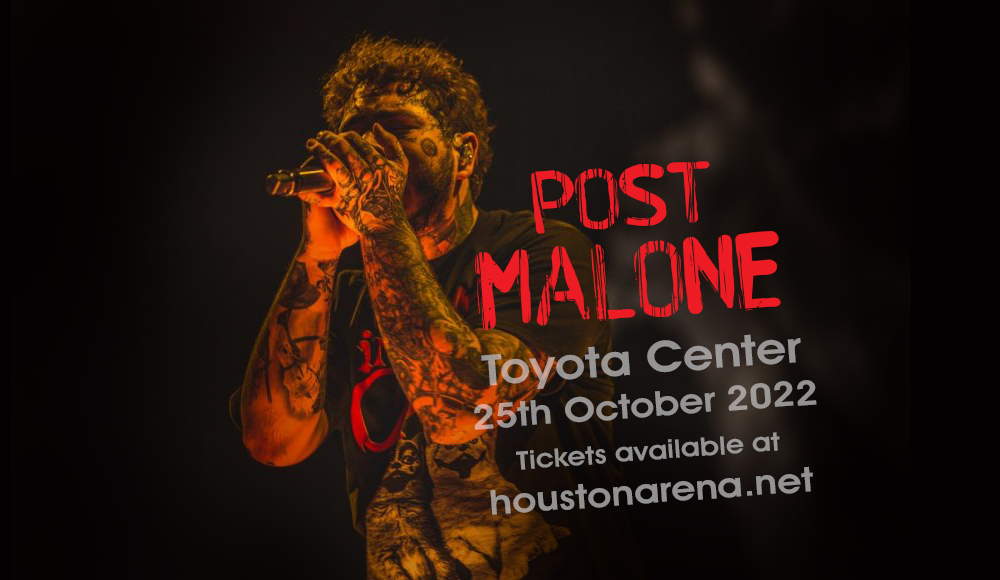 The raspy voice behind chart-topping hits "Rockstar", "Congratulations", "Psycho", "Better Now", "Goodbyes", "Sunflower", "Circles", "One Right Now" with The Weeknd, and many more, no other than Post Malone is back for an arena tour in support of his hot new record Twelve Carat Toothache released last June 3rd. The new album features his singles "One Right Now" with The Weeknd, "Cooped Up" feat. Roddy Ricch, and "I Like You (A Happier Song)" feat. Doja Cat.
Just recently, Post Malone announced that he has a baby girl, along with the reveal that he is engaged. He also dropped a new line of merch designed for the "little rockstars". "I'm excited for this next chapter in my life. I'm the happiest I've ever been, and for since I could remember I was sad," Post Malone told TMZ. "Time to take care of my body and my family and friends, and spread as much love as we can every day."
As a new dad with a big new record up his sleeves, better and brighter days are ahead of the hot 'rockstar himself. From struggles with vices and life's challenges along the way, Twelve Carat Toothache tells a lyrical tale of Post Malone's honesty and growth. "The whole thing I want to do is just be honest," he tells Apple Music.
Post Malone came crashing into the scene for strikingly raw and honest lyrics rapped over sick beats with memorable hooks as he sings the chorus. His albums have bagged multi-platinum certification from the RIAA, and he's bagged nine Grammy nominations, ten Billboard Music Awards, three American Music Awards, and an MTV VMA.
With Twelve Carat Toothache making waves as Post Malone celebrates the start of the happiest days of his life, get ready to be part of his milestone as he leads the party himself at the Twelve Carat Tour. Book your tickets now!