Toyota Center in Houston, Texas | Houston, TX
The voice and the guitar master who serenaded audiences around the world who fell in love with his hooking pop, rock, and blues tracks such as "Your Body Is a Wonderland", "Gravity", "New Light", "Free Fallin", and many more is no other than John Mayer. The musician is set to hit the stage at Toyota Center on Saturday, 23rd of April 2022 to serenade fans with his classic hits and fresh music off of his newest album, "Sob Rock". His eighth studio record features "New Light", his 2018 certified-platinum hit single. Mayer also just recently dropped the singles "Last Train Home" and "Wind Blue" from his new album. Sob Rock encapsulates John Mayer's signature hooking sound and artistry, incorporating an 80s vibe as he asked himself "What music makes me feel like everything's gonna be OK". Live music is back, with Mayer's timeless hits and fresh tracks hitting the stage soon, it's time to book your tickets now!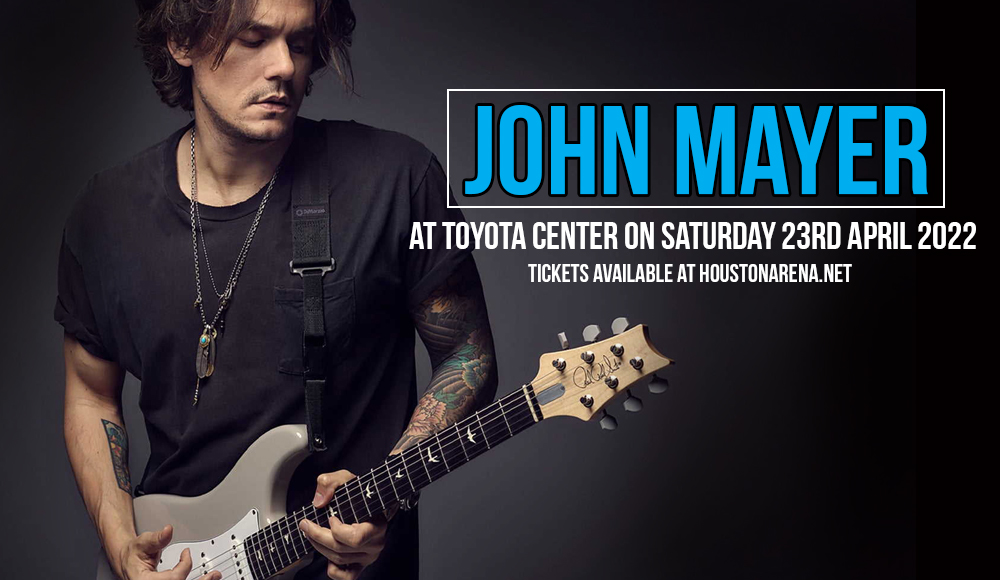 John Mayer grew up in Connecticut, whereupon watching the classic hit movie Back to The Future, he was astounded by Michael J. Fox's performance as McFly which rooted his fascination towards the instrument we all know him well for – the guitar. By the time he turned 13, his father rented him a guitar and a neighbor gave him a Stevie Ray Vaughan cassette that led him to have a love for blues music, and also then taking up guitar lessons with a local shop owner.
When Mayer was 17, he became hospitalized for a weekend, and after such, Mayer said "That was the moment the songwriter in me was born", as he wrote his very first lyrics the night he got out of the hospital.
John Mayer found his early career in music through high school and college gigs, then propelling to fame as he dropped his debut album that was first only released through the internet, "Room for Squares". The record featured radio smash hits "No Such Thing", "Your Body Is a Wonderland", and "Why Georgia". He won a Grammy for Best Best Male Pop Vocal Performance in 2003 with his multi-platinum awarded single, "Your Body Is a Wonderland".
The following years up to 2009, Mayer dropped his studio records "Heavier Things", "Continuum", "Battle Studies", and his live album "Where the Light Is", all of which being certified multi-platinum albums. These albums featured hit singles and fan-favorites "Daughters", "Say", "Gravity", Waiting on the World to Change", "Free Fallin", "Who Says", among others.
By 2012 after a hiatus, he came back and dropped his certified-gold album "Born and Raised" which hit #1. He then released his albums "Paradise Valley" and "The Search for Everything" in the following years. These include the hit singles "Who You Love' with Katy Perry, and "Love on the Weekend".
John Mayer came back with a bang in 2018 as he dropped his certified-platinum hit single "New Light" which later on appears in his latest eighth studio record "Sob Rock". The man just keeps on coming and keeping fans in love with his charismatic vocals and charm, along with his mesmerizing guitar hooks. It's gonna be a night of classic smash hits, and fresh new music live on stage by the man himself, John Mayer. Book your tickets now!