Toyota Center | Houston, Texas
Let the games begin! Kick-off your summer with a blast as the most-subscribed sports YouTube channel known for its amazing, hilarious, and spectacular tricks, Dude Perfect, is making its way to the Toyota Center on Friday, July 29, 2022, to bring you the best summer adventure of a lifetime on their "That's Happy" summer tour! The group is made up of YouTube stars Tyler Toney, Garrett Hilbert, Coby, and Corry Cotton, who wowed audiences all over the world with their hooking sports and comedy content such as Face-Offs, Overtime, and Dude Perfect Stereotypes. With about 57 million subscribers to date, the crowd just can't get enough of the five lads that ignite adrenaline, fun, laughter, and games. "Fans will compete in even bigger battles, tell their laugh-out-loud stories and get a little messy in the process…" says the organizers. So, grab your chance to meet, compete, and laugh with the lads as they take you on the summer adventure of a lifetime. Book your tickets now!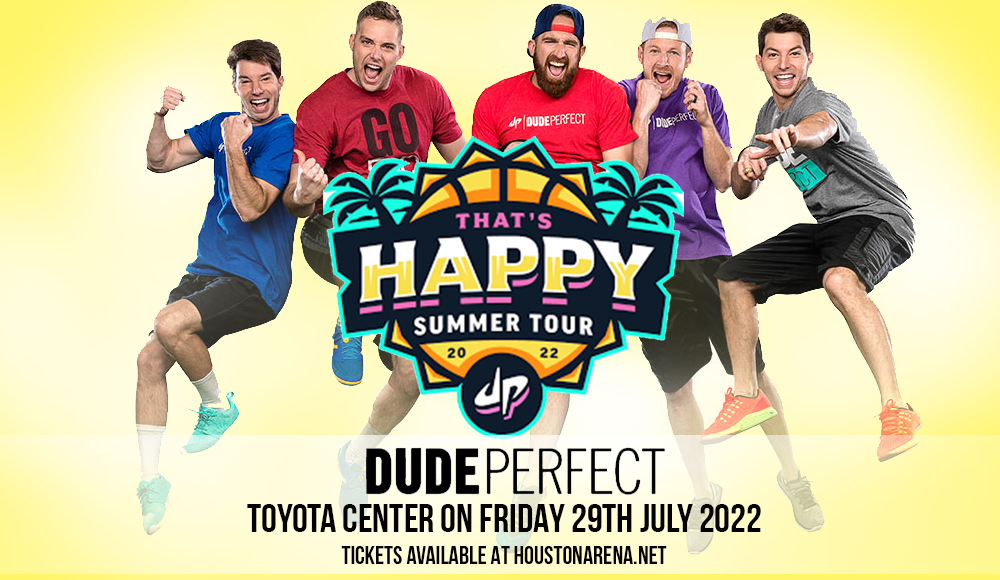 All the fun began when the group uploaded a video on YouTube performing trick shots in 2009. A week later, the video skyrocketed to 200,000 views and marked the beginning of more than a decade of extreme fun and games. Their second video racked up over 18 million views where for every 100,000 views, the boys pledged to sponsor 1 child from Compassion International. Afterward, they scored a deal with ESPN where their videos would appear on various ESPN shows.
"It was so great hitting the road again this past year after everything that has happened," Coby Cotton says.
"This tour will continue with new competitions, more comedy, and even more excitement than what you see on our YouTube channel. Our hope is that the That's Happy Tour will be one of your favorite summer memories."
Dude Perfect's "That's Happy" summer tour is surely gonna be the highlight of your summer 2022. You're in it for bigger battles, louder laughs, and a fun mess as you play and laugh with the crowd and the lads themselves. Catch your favorite segments in real life like those from their acclaimed "Overtime" series, and the crowd-favorite "Get Crafty".
All the fun, games, sports, battles, stories, and laughter await as summer starts waving hello, telling you to hop on this chance to catch and play with Dude Perfect live at the Toyota Center on July 29, 2022. Book your tickets now!