Toyota Center | Houston, Texas
TobyMac, the multi-platinum Christian hip-hop and rock artist who brought a new flavor of worship to the praise scene, is back! Announcing the return of his highly anticipated Hits Deep Tour, he's bringing along an extensive lineup of acts including DiverseCity band with supporting acts CROWDER, Cochren & Co, Tasha Layton, Jon Reddick, and Terrian. The annual tradition is making a stop at Toyota Center on Friday, 10th of March 2023. Inviting believers on a special night of pumped-up praise and worship, get ready to hear his biggest hits and new releases live on stage as the crowd resounds His name. Book your tickets now!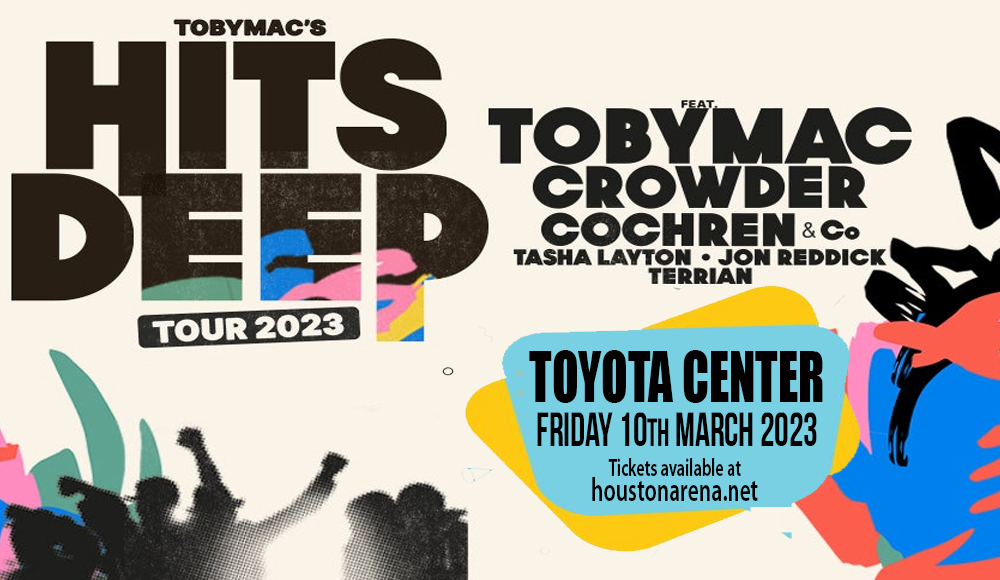 With over twenty years of serving a unique sound infused with hip-hop and rock to the contemporary Christian music scene, TobyMac's work is a testament that faith can be expressed in different ways. He's sold over ten million albums and won seven Grammy Awards. The man has six #1 singles on the Billboard Christian Songs chart, marking him as one of the artists with the most #1 hits on the chart. Last August 2022, TobyMac shared his eighth studio record, Life After Death, his sixth consecutive #1 on the Top Christian Albums chart.
The collaborative record is his first album after the death of his son in 2019, TobyMac shared that he always dreamt of having a collaborative record and felt that the time was right, needing the help of some friends to get through.
"After what I've experienced and losing my firstborn, I just think people came alongside me and helped me – helped me maybe sing some of the things that were hard for me to sing, and maybe made me a little stronger. So I'm grateful." TobyMac shared.
As the man rises back up stronger than ever, and the Hits Deep Tour 2023 inches nearer and nearer, TobyMac is excited to go back on tour. Talking about touring as a fulfilling moment for a song writer, "When that song and that artist and those people come together, it's a special moment." he shared.
"This tour has become an annual tradition for us at Awakening Events and for thousands of families across the US." shared Curtis Pinkerton from Awakening Events. "We're honored to once again partner on a national level with our great friends at K-LOVE Radio, Air1 Radio, Food for the Hungry, and Altrua HealthShare, to present TobyMac's Hits Deep Tour 2023."
His biggest hit singles include "Made to Love", "Lose My Soul", "City on Our Knees", "Get Back Up", "Me Without You", "Love Broke Thru", "I Just Need U.", "Everything", and many more.
"Life After Death" features collaborations of tracks that move from sorrow and grief to a sense of hopefulness in a journey of faith amidst life's pains. The new album features his singles "21 Years", "I'm Sorry (A Lament)", "Help Is on the Way (Maybe Midnight)", "Promised Land", and "The Goodness" feat. Blessing Offor.
"That's how I do it: I live life, meet people, get inspired, live through some pain, sweat a little, get hurt or get lifted up, watch humanity and write songs". TobyMac shares, talking about life and writing songs after his son's death.
Stronger than ever, with utmost faith and love, TobyMac is geared up to exalt His name at the Hits Deep Tour 2023 as the year welcomes new beginnings and all the more reasons to lift His name high. Book your tickets now!