Toyota Center | Houston, Texas
It's time to watch out for the 'big grrrls, just as she says on her reality TV show "Lizzo's Watch Out for the Big Grrrls". Lizzo's finally back on a special tour after three years since her 2019 "The Cuz I Love You Too Tour". After sharing her newest single "About Damn Time", it definitely is 'about damn time since Lizzo went on a tour and perform her bangers on stage. Set to embark on her new "Special Tour", Lizzo has big surprises in store as fans are taken on a new era with the release of her upcoming fourth album "Special". The Special Tour is coming over to the stage at Toyota Center on Wednesday, October 26th, 2022. Book your tickets now!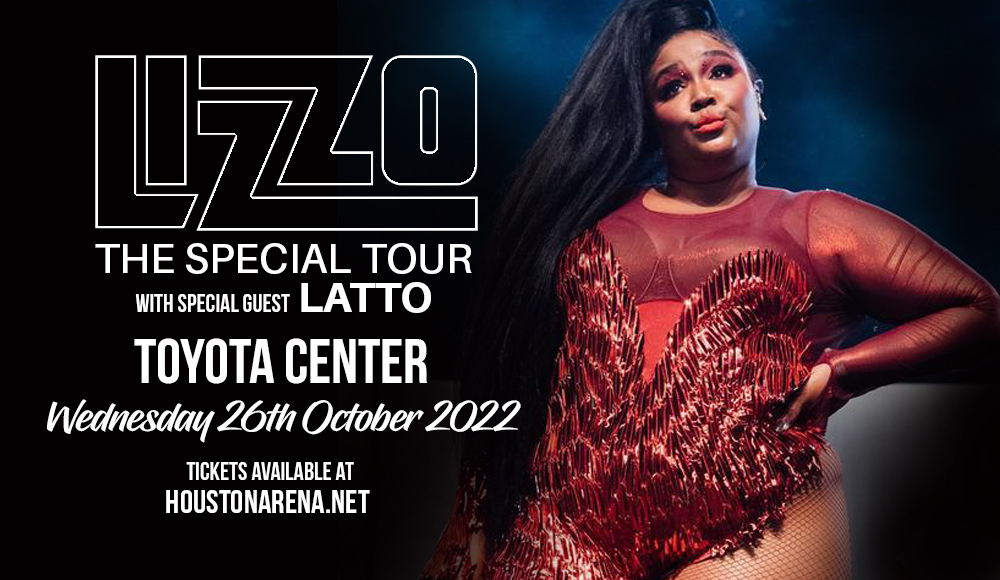 Taking over the world singing "I just took a DNA test, turns out I'm 100% that bitch" to her viral sleeper hit "Truth Hurts", Lizzo has made a mark as a genre-bending singer-rapper who spits bars and lyrical hooks on discussions of body positivity, race, sexuality, and empowerment.
Since her 2013 album debut with "Lizzobangers", Lizzo has defined her style and approach to creating impactful tracks. The Guardian remarks – "At times joyfully nonsensical, Lizzo's stream-of-consciousness rhymes can also be lethally pointed".
Singing "Good as Hell", Lizzo's music has always been about blending hip-hop, funk, R&B, and soul, creating tracks that speak volumes to listeners. Her album "Big Grrrl Small World" featured her single "My Skin" which she defined as the album's "thesis statement", telling Vice in an interview "You can wake up and change many things about your appearance, but the inevitability of waking up in your skin is what unifies us".
After her feature in the What's Underneath video project, and with the release of "Big Grrrl Small World", Lizzo shared with The Guardian that the project led her to a catharsis saying "Oh, people are responding positively to my appearance, I shouldn't be ashamed of this. In fact, why am I not talking about it more?"
With a great way with words, Lizzo never fails to craft genre-bending tracks of impact, discussing topics covering race, identity, sexuality, and body positivity.
2019 set the stage for Lizzo's global breakthrough. Her 2017 single "Truth Hurts" became a viral sleeper hit through TikTok. The single became Lizzo's first #1 hit on the Hot 100, the first Black female solo R&B singer to do so since Rihanna's "Diamonds" in 2012. Her work started gaining mass attention, her third album "Cuz I Love You" hitting #4 on the Billboard 200.
Lizzo's other notable hits include "Boys", "Juice", "Good as Hell" (solo and a version with Ariana Grande), and "Cuz I Love You".
In August of 2020, Lizzo dropped a new song "Rumors" which featured Cardi B, announcing the beginning of a "new era". Lizzo told Variety that her new album is "one of the most musically badass, daring and sophisticated bodies of work I've done to date".
"All I want to do is help people through my music." Lizzo shares.
With Lizzo's fourth studio record "Special" coming out on July 15th, fans are getting ready to join Lizzo in this 'special new era. With the Special Tour right around the corner, join Lizzo in bringing this new era to life on stage at Toyota Center on October 26, 2022. Book your tickets now!