Toyota Center | Houston, Texas
Grammy Award-winning American rapper, Future, is set to bring a star-studded lineup at the One Big Party Tour. The tour will take place across seven cities, including this special stop at Toyota Center on Saturday, 7th of January 2023. The man recently dropped his seventh studio record, I Never Liked You, earlier this year. The album hit #1 and featured its hit single "Wait for U" feat. Drake and Tems. Don't miss out on Future's biggest hits and new songs live on stage, along with a soon-to-be-announced 'star-studded' lineup of friends joining him on tour. Book your tickets now!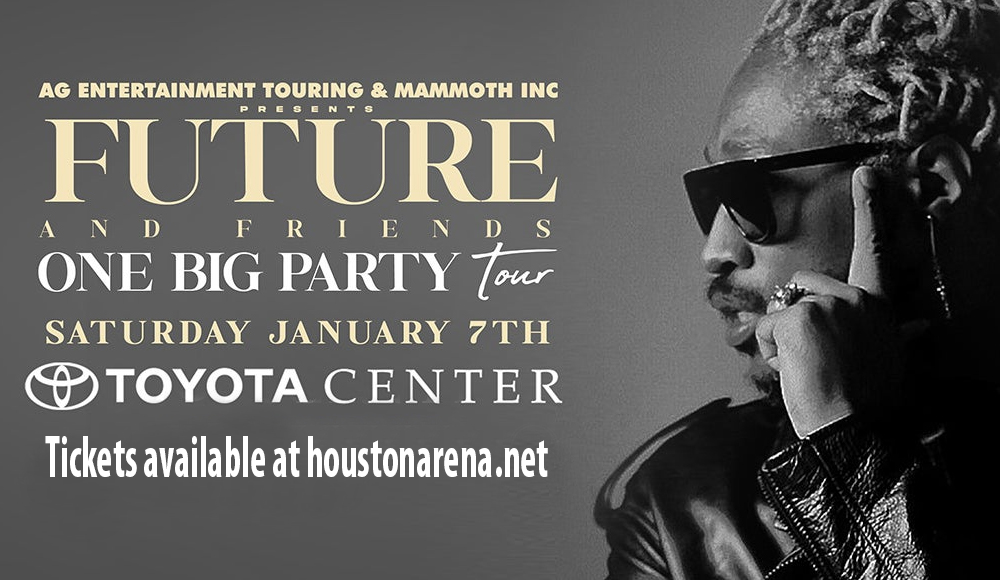 "Showtime," Future posted on social media as he announced the One Big Party Tour, bringing his biggest hits and new material to the live stage, joined by a star-studded lineup of friends who are yet to be announced. Dropping his seventh studio album "I Never Liked You" in April of 2022, fans have been itching for a tour announcement from the acclaimed rapper. "I'm ready to bring One Big Party to your city!" he added.
To date the tour includes seven stops, launching on December 30th as the perfect year-ender and carrying on throughout January as an awesome new year celebration.
His new album produced his newest #1 hit single "Wait for U" feat. Drake and Tems, receiving a 2x Platinum certification from the RIAA. Its succeeding singles "Keep It Burnin" feat. Kanye West and "Love You Better" quickly became fan favorites from the #1 hit record.
Since 2011, Future has gained popularity and widespread acclaim for his unique character and style in the rap scene. He is well-received for his signature melodic style and production that contributed to shaping contemporary trap music. He released his debut album "Pluto" in April of 2012, hitting #8 on the Billboard 200, producing certified-Platinum hit singles "Turn On the Lights" and "Neva End" (featuring Kelly Rowland).
His succeeding records and singles have all become critically-acclaimed, hitting #1 and bagging gold and multi-platinum certifications from the RIAA. Since his third album "DS2", Future has hit #1 consecutively to date with his new album "I Never Liked You". With a plethora of hits over the last decade, Future has amassed a following worldwide, raving to his hit singles including "Low Life" feat. the Weeknd, "Selfish" feat. Rihanna, "Mask Off", "King's Dead" with Jay Rock, Kendrick Lamar, and James Blake, "Fine China" with Juice Wrld, "Life Is Good" feat. Drake, and many more.
The tour announcement follows Future's soaring heights in his career. The man had just been named as the artist with the most platinum albums of the 2010s and received seven Grammy nominations. As a prominent star in the global rap scene, a big future is indeed in store for Future himself. As he celebrates these milestones of success, make sure you join Future and Friends at the One Big Party Tour at Toyota Center by booking your tickets now!