Toyota Center | Houston, Texas
The Queen of Romantic Quiet-Storm R&B/Soul, Anita Baker, is taking her reign once again as she announced The Songstress Tour, her first full tour trek in 25 years. Produced by Live Nation, The Songstress will head the road across 15 cities as Baker celebrates forty years since the release of her debut record. Anita Baker will be performing her greatest hits, along with hints of new music on tour. The Songstress will be taking over the stage at Toyota Center on Friday, 15th of December 2023. As she conquers the stage once again, Anita Baker is definitely 'Giving You the Best That I Got' as she serves her legendary catalog. Don't miss out on The Songstress' big comeback tour by booking those tickets now!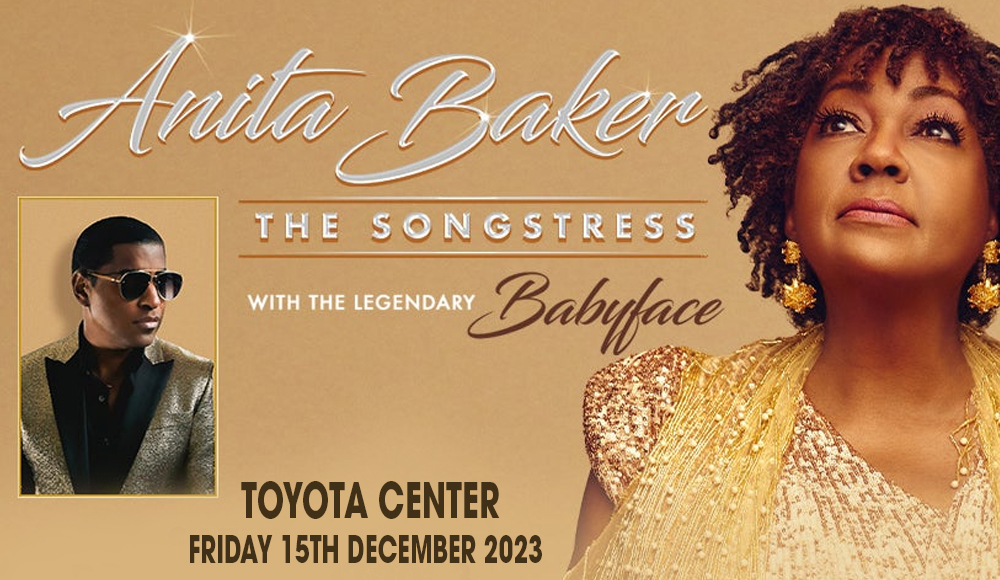 Eight-time Grammy Award-winning singer-songwriter Anita Baker, hailed as the Queen of Romantic Quiet-Storm R&B/Soul, marked history as she announced her first full concert tour since her last in 1995. The queen is celebrating forty years since the release of her debut album "The Songstress". The record featured her hit singles "You're the Best Thing Yet", "No More Tears", and "Angel".
As the queen hits the road throughout the year, closing the tour in December, The Songstress will serve special nights of her legendary soul and R&B hits across 15 cities. "Looking forward to some crazy, lovely, hang time with my fans, on tour in 2023!!" Anita Baker shared. "Gonna, bring some new music & some special guests, too."
Beyond her legendary catalog, to which fans can expect her to perform her greatest hits live on stage, Baker hinted at new music and special guests in store at this year's The Songstress tour.
Hinting at new music, Baker recently shared a snippet of an unreleased song "Unconditionally Yours" on Twitter. The song was said to be previously teased over a decade ago, and it seems the song is finally getting its long-awaited time to shine. She thanked her influences that inspired her to continue making her own "little Miracles of Music". She cited influences from the likes of Sarah Vaughan, Patti LaBelle, and Aretha Franklin as her "80s Contemporarys", along with "Innovators" Missy Elliott and Beyonce.
"2023 Coming Straight to YOU," Baker tweeted. "This time…With *My Own* catalog, sO Grateful, *MiraclesOfMusic*".
Hints of new music, a comeback tour, and special guests, is a new album in the works? As Anita Baker hits the road on a full concert tour after 25 years of letting her music live for its own and a few special shows here and there, big surprises can be expected to arise as The Songstress officially launches her tour.
The tour also follows her victory in claiming back the rights to her masters in 2021.
Having sold over 13 million certified albums in the US, and dropping a slew of hit singles, Anita Baker's acclaimed hits include "Angel", "Sweet Love", "No One in the World", "Same Ole Love (365 Days a Year)", "Giving You the Best That I Got", "Talk to Me", "You're My Everything", and "Lately". As of 1995 amidst the height of her reign, she has sold over 17 million albums globally.
As the queen takes the crown and conquers the stage once again, don't miss out on this chance to catch Anita Baker bringing her legendary catalog back to life at The Songstress tour. Joining her as her special guest is R&B singer-songwriter and award-winning record producer Babyface.
Celebrating 40 years of The Songstress with a comeback tour, new music, and big surprises. Book those tickets now!